Sky Ferreira's Favorite Things
Listen to Sky Ferreira on iHeartRadio

Singer-songwriter/model/actress Sky Ferreira released her debut album, Night Time, My Time, back in October, and for her, it was a long time coming. The 21-year-old began uploading songs to MySpace at 14, and although it took seven years for her debut album to drop, according to Sky, it was worth it. "I felt like for the first time, people kind of heard me," she tells iHeartRadio.
[Buy Night Time, My Time on iTunes]
Even before the album hit the shelves, Sky's public persona was plagued with controversy, from an unfortunately-timed drug-related arrest to her own decision to appear nude on her album cover. But the mainstream is finally getting a dose of Sky, the musician -- she supported Miley Cyrus on the U.S.-leg of her Bangerz Tour and is currently opening for Miley abroad -- giving her a vehicle to share her brand of indie-synth-pop with the world.
When she was in New York City recently, Sky sat down with iHeartRadio to divulge some of her most favorite things. Check it out below!
Favorite time of night
It depends. For myself, I like 1:00 in the morning if I'm at home by myself at 1:00 in the morning, but if you actually want to do stuff, probably like 9:30 pm... Then not everything's closed. You can't go to the movies past like 10:00 or something.
Favorite thing about growing up in LA
My favorite thing about growing up in L.A. that I miss are swimming pools. Actual swimming pools, not like kiddie pools that come up to your knees.
Favorite Michael Jackson moment
Basically, but I really painfully shy and I didn't talk to anyone. I was always just kind of daydreaming to myself. So my mom and I would have birthday parties at Neverland, but it would be all my brother's friends because I didn't know anyone, and I'd get excited and wander off. He had his own movie theater but it had the original E.T. in it... There was also trampolines in the grass and the grass had speakers so it sounded like you were in a Disney movie or something.
He had a recording studio inside the movie theater but I didn't know that. No one knew he was there and he came out. I was sitting by myself and nobody was talking to me the whole day. Yes, Michael Jackson like pops out. Michael Jackson walked out of the recording studio and I hung out with him. He moonwalked for me and then I went to the recording studio and he showed it to me. I got to touch the original E.T.
We sat in the movie theater and he was like, "Sing for me." The one song I remember singing so clearly, it's so embarrassing, but I did "Lucky" by Britney Spears... Out of all the songs you'd sing to Michael Jackson. I was like 7 though, to be fair.
Favorite place you've been naked
My album cover.
Favorite way to piss off your manager
Miss a flight. Be late for something... be myself. No, I'm kidding. My managers now get it. They understand. The thing is, I'll do what I'm supposed to do. I remember with other mangers I would get annoyed because they didn't protect me. My managers now protect me and want to help me get bigger, but not compromise who I am to do so.
Favorite thing about being in love
Well, I guess now I feel less lonely obviously, even though it's very complicated and annoying sometimes and confusing. It's like having a best friend with you at all times.
Favorite new artist
I really like King Krule. I like what he stands for. I think he's really cool. In a pop-peer sense, I really like Lorde, who is so young, and she's so smart. It's good to have a voice and not be scared of it.
Favorite thing to waste time doing
I sometimes binge shop, buy stuff I don't need. I usually do online shopping because I still have insomnia. I go on eBay, kind of half asleep and just buy the weirdest stuff. One day I woke up and I had a box of figurines and collectibles -- like Smurfs and stuff. I was like what is this? I looked it up and it was from eBay. That's the kind of stuff I do.
Check out Sky's latest video for her song, "I Blame Myself."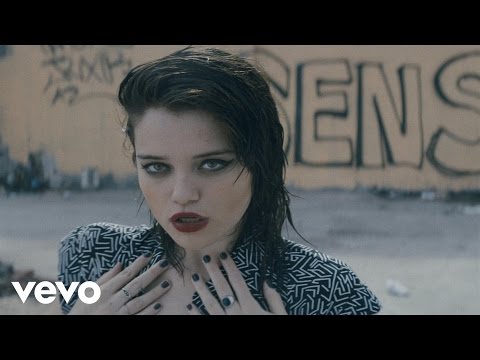 Photos by Shelby Case